One of the most powerful influences on a student's passion for learning is how others notice their efforts. To notice what they have done; the hard work, the progress made, the energy used, the mistakes learnt. This is going to be my number one priority to work on developing this year. I have always been a teacher who gets ridiculously enthused about what students are capable of creating (I am an Art teacher after all), but apart from letters home, praise in lessons for genuine hard work and creativity and displaying of work in it's most traditional form, I don't exactly push the boat out.
The  passion which students have to develop, improve, to search for greatness can be seen as an intrinsic quality. If you looked around your class, you probably only think this quality relates to some of the students you teach. As I have spoken about before, this may have a lot to do with the mindset of that student.
A fixed mindset; where people believe their basic qualities, like their intelligence or talent, are simply fixed traits. They spend their time documenting their intelligence or talent instead of developing them. They also believe that talent alone creates success—without effort. How many times do I hear 'I can't draw' (to which I usually quote Paul Klee about a 'line being a dot going for a walk'…now jog on…)
Do our schools make students believe that through determination anything is possible? That the sky is always the limit? How do we get the message across that ONLY through hard work can we possibly get better. It was the film producer, Samuel Goldwyn  who famously said 'the harder I work, the luckier I get.' Wise words.
I look back at the awe inspiring opening ceremony of the London Olympics, devised by the remarkably grounded Danny Boyle. It would take a thesis or two to unpack the depth of creative thought and sheer determination which made that happen, but it is a great example of the sky being the limit in terms of making an extraordinary vision come to life.  What can we do in schools to help celebrate our own 'history of learning'? What would make students think every day that I can do more? Be  better? Aim higher?
A growth mindset; where people believe that their most basic abilities can be developed through dedication and hard work—brains and talent are just the starting point. This view creates a love of learning and a resilience that is essential for great accomplishment.  Me thinks Danny Boyle must have this in spades.
So how do we talk about, display and celebrate and nurture the growth mindset to make sure that when students leave our school, they still believe anything is possible, with dedication and hard work?
There were times watching the Olympic ceremony where I felt passionate about my country. Passionate that we can create such a remarkable vision. The visual feast created on that evening makes me think about how my school should celebrate the culture of learning in our school. Celebrate the achievements of every worthy student and essentially, to get students to notice what hard work can bring by making a 'big deal' of achievement.
Since writing my last post 'Judging a book by it's cover', several tweachers have clearly had similar ideas about the vision of learning and how to recognise the learning culture within their schools. (Particular respect to @ICTEvangelist, @Davidfawcett27 and @karen_macg).
So here is an idea for celebrating and archiving brilliant learning. With massive thanks to Mark Anderson's recent post on this, the use of QR codes could be such a revolutionary method of spreading the brilliance of learning at a school. Take a look…
Now.. Imagine this poster put up in your community.
Imagine posting a link to a brilliant poem written by a Year 7 or a French conversation on 'sound cloud' or bench designs for the local park, the persuasive letter writing examples to the local MP (and the responses?!) The possibilities are phenomenal. By getting your local paper or free posh magazine to run a feature on it, how to get a QR reader onto your smart phone etc. You can immediately engage students learning with the outside world. Documenting the history of learning within you your school. You could also engage lifelong learning by getting the community to question their own approaches to learning; take this example and use your QR reader!
So as an Art teacher, I can see two ways of using QRs straight away. The sketchbooks I order for school have a free foil stamp on.. Now If I put a QR stamp on with a link to our virtual gallery or examples of excellent sketchbooks…
Or again. How about students recording what's inside their sketchbooks and creating their own QR which documents it. Again, just an example, but you can use your QR reader below….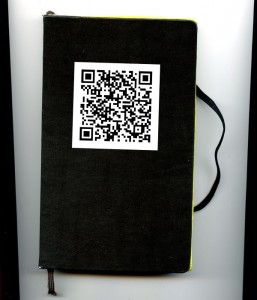 So. Like said, just how amazing is this idea? With a bit of head scratching about logistics and permutations, this could be a wonderful way of publishing the learning of great minds. In Ron Berger's book, the ethic of excellence, he speaks about the importance of public displays and this could be another powerful tool for schools to publicise the brilliance of learning happening within their walls.
As Danny Boyle gave us his extraordinary vision of Britain, what can we do to create an extraordinary vision of learning in our schools? This is one idea which I will be developing next academic year. Oh and for those who like Banksy, I know this could get me into trouble, but I am an Art teacher..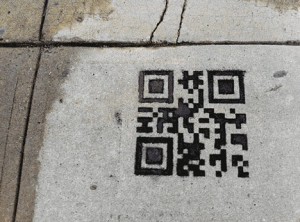 Next blog… 'Pop-Up learning shops' and Guerrilla marketing…