As part of our schools drive towards developing a culture of excellence, you may have noticed me tweeting (once or a million times) about our 'Corridor of Excellence'. I have long banged on about how we should celebrate learning in schools. In fact, two of my first ever posts addressed this here and here.
In the Spring term, I gave an assembly to the school about how we should look to celebrate achievement and excellence at school and showed them the 'before and after' slides of the corridor, amongst other ideas. To my delight, there were many 'ooohs' and 'aaahs' from the audience. That week, students came up to me and asked; "Are we really going to do that?" To which I replied, "Yes!" The students were delighted.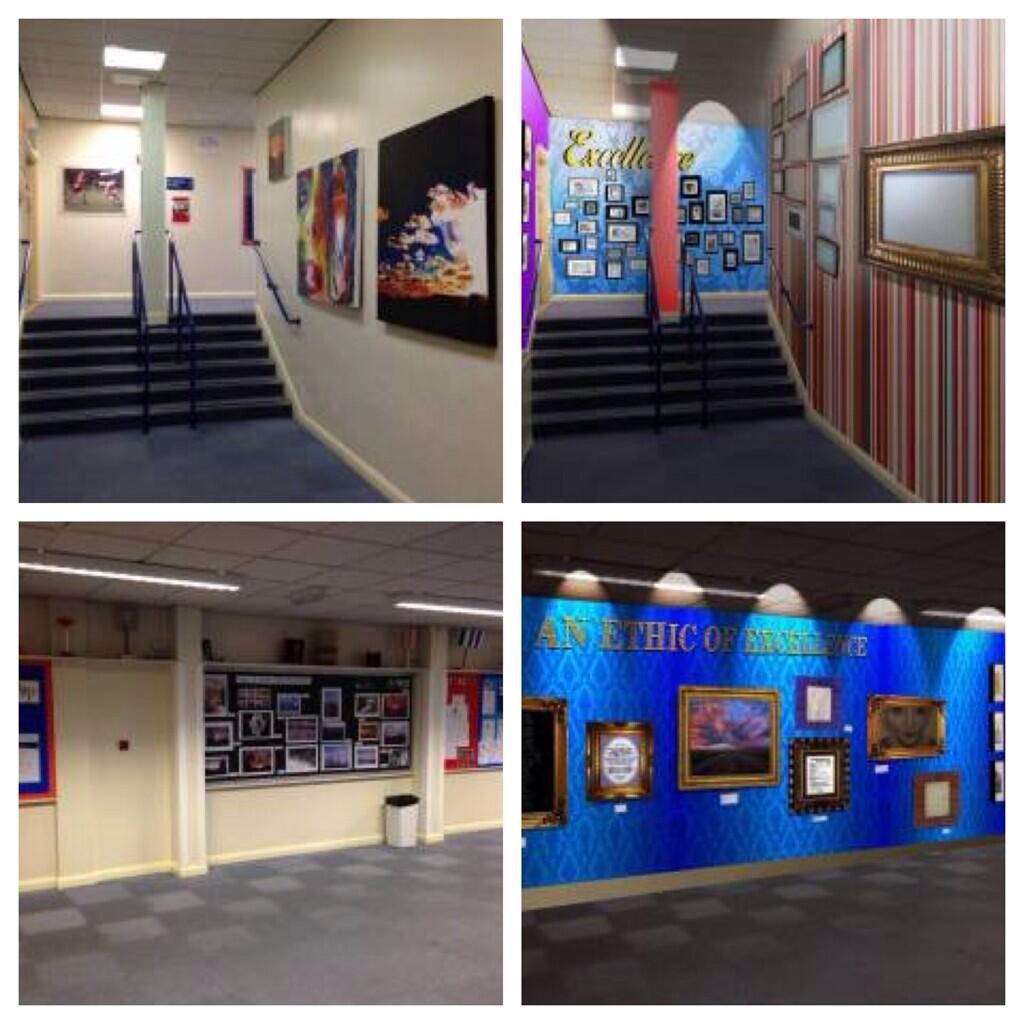 Our school is a 60's build, with not a great deal of space and certainly has some dingy corridors, just crying out for a bit of attention. The "Ethic of Excellence" display was number one on my list of things to do.
Soon enough, the Easter holidays came and the caretakers did their thing. I collected loads of old frames from a local framers in St. Helier (The main town in Jersey). These were from their more affluent customers who wanted stuff reframing. They kept all the old frames and I picked them up once a month until we had enough. I now have enough to cover the wholes school, so if you need some, look no further!  Each one was backed with black painted hardboard and the frames were sprayed bright colours. We approached a local signage firm about the lettering and that worked out very reasonably. The lights were done, frames put up and we were good to go.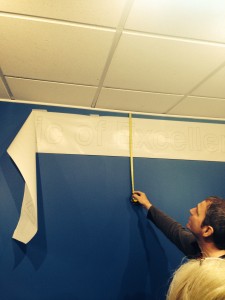 In the assembly, I spoke to the students about excellence and what it means to create work of excellence, so I thought it would be great for the first thing to go in the frames before the work itself was their own understanding of excellence, what it means to them and what advice they would give to other students who wanted to create it.
I set up a questionnaire on our VLE and the answers came flooding in. Their answers were highly personal and incredibly inspiring.  It really made me think… This is what our students think about excellence. They want to be inspired to this level of dedication by their teachers. To commit wholly to their learning, to raise their game again and again, to be the best they can be, to draft, redraft again and again until it's their own level of excellence. There were literally hundreds of brilliant messages of excellence. 
I took each one, played around in Photoshop, choosing some cool fonts and printed out, laminated and put the exhibition together.  This was such an inspiring start to the wall of excellence. Each day, as the quotes went up, more and more students and staff came and read and left inspired. I was chuffed!
Now, departments have collated what they consider to be work of excellence and we have a mélange of different exemplar work up there. I have to say, it's not all excellent, but you need to start somewhere. It's got the potential to be a really powerful resource for our school. I am keen for year groups to take it on, even individual form groups as well as individual departments using it. I know @ShaunAllison's school have dedicated particular times for departments to use their wall, which is a great idea too.
Many schools are now developing their own 'Corridors of Excellence', so it's definitely an infectious idea. I have quite a few more ideas, such as projecting essays onto the floor and a 'Letters wall' where copies of this month's best congratulatory letters (focused on growth mindset) will be placed for other to see. I would love to create a hall of fame corridor, with Perspex stars, for various great learning attributes or achievements from our students. Ideally, the school becomes a living museum of brilliant ever-changing learning, which sweeps our students off their feet as soon as they enter the doors. One step at a time…But this is a good first step.